This is a short story that comes with the Clannad Visual Fan Book. The book itself was published in 2004 and contains anything related with Clannad visual novel (including full walkthrough of the game) also it contains 3 short stories which one of them titled 彼女の境界線 (Her Boundary Line) I translated here. Enjoy ^^
★★★
CLANNAD Another Storys 1
"Her Boundary Line"
At the end of bitter story of missing out one another, finally their feeling reached one another. The two, Tomoya and Kyou, finally started dating. But even for Kyou, there were few things she couldn't accept, and that was…
The room was filled with silence.
No other person there.
It should be our time to be alone, our silence time, yet…
"Stupid… stupid… stupid…! Idiot!! Pervert!!!!"
"Wa… wait Kyou! You don't need to be angry for such trivial thing."
"Shut up! And just die already!!,"
as she shouted, Kyou grabbed a weekly magazine, and threw it toward Tomoya direction as strong as she could.
But I evaded that attack by a hair width.
*Click*
"Can't you talk without making too much loud voice? If you make too much noise, those rugby club members wil—— Uagh!!"
That magazine hit Sunohara directly in his face, as he returned to his room.
"I will go home now!"
"Ah… wait!"
"Bye bye!"
I tried to reach my hand for Kyou, but Kyou evaded it and went out of Sunohara's room.
Suddenly it was all silence there.
"Hahh…"
I sighed a bit, then I slurped my canned coffe.
"So she hates it that much…"
I felt no guilt at all, but still I scratched my head as if I made a mistake.
It was only 2 months since we started dating.
At the first time we date, we couldn't help to be anxious of the others' sight upon us…
After all, from the perspective of the others, we were none other than a sister that stole her little sister boyfriend, and a young man that ditched the little sister to start dating with the older one. So I think it was just a natural response from them.
But in spite of that, Ryou became our lifesaver as she talked to us normally just like before.
And for it, those people slowly could grasp our situation and got calmed down.
Even so, we still worried about Ryou opinion upon us.
Up until now, we still couldn't hold each other hand in front of Ryou.
Maybe it was for that reason…
That we spend more time in Sunohara's room.
First of all, in this place, we wouldn't be seen by Ryou.
"Damn it… I can't even understand her reasoning."
"Umm… Okazaki…"
From the door, Sunohara rubbed his nose as he started to stand up.
"Ah? So you have returned…"
"Ya… But, I got hit by a magazine instead of having a 'welcome back' from your mouth tho'."
"Ah, I'm sorry to hear that. Well, do you get the snacks I ordered?"
"I found it just almost to the next town,"
as he said that, Sunohara placed a vinyl bag on the table.
"It is as if you try to make me to be out for a long while."
"To be honest, you are a bother here."
"If you want to flirt with one another, then do it at your own home!"
"Shut up! Just hang with it!"
"It is me who is supposed to be angry! Well then… what did you do in other people room?"
"… nothing at particular…"
I averted my eyes as I heard Sunohara's tsukkomi.
"Fujibayashi Kyou looked so irritated before… Co…Could it be that you two had passed that boundary line!?"
"Of course not! That's too much even for me!"
"Then, how far have you gone?"
"It's just at some normal stuff,"
I started to sulk. And I reached for the snacks Sunohara bought.
Seeing me in this state, Sunohara tried to throw a joke at me,
"So you got scolded when you try to touch her breasts?"
"She won't be angry about that. It's just a normal stuff we usually do"
"……,"
Sunohara petrified along with his smile as he heard my answer.
"Ermm… So how does it feel? Soft?"
"Well you can say that."
"Then… I wonder if it is true that you did nothing in my room."
"Nothing in particular…,"
giving a vague answer, I opened the snack.
"I see… So she is truly different than Ryou…"
I didn't aware that I thoughtlessly blurted such words.
And those words made Sunohara narrowed his eyes.
"Don't you think you just said something harsh?"
"…Well…, it seems I made mistake with my words."
The two weren't supposed be compared. Or to be exact, I should never try to compare the two.
Feeling disgusted to my own thought, I lied my body on the floor.
***
"*sigh*…"
Kyou dropped her back as she walked through the path alone in the evening that had become dark.
It was summer. Even if the sun has fully set, the heat could still be felt.
Thanks to her hair that became short now, she felt cooler days than the other years.
It was a sensation I felt just now.
I placed my finger into my lips.
Just a moment earlier, they were touching Tomoya's lips.
"I… I'm fine with kisses…,"
I whispered silently.
I thought Tomoya did a thing that dating couples usually do.
But I still can't accept that yet…
——— I still can accept if I was pushed down…
but that was the limit. I truly hate it when he tried to do that thing.
Every time I had a quarrel with Tomoya, I always fell into a thought…
If it was Ryou… at that time, what will she do…
Even so, I couldn't ask it directly to Ryou.
So what I could only do was making a wild guess of things Ryou could accept and things she couldn't.
"Dating is difficult eh…,"
still in whispering tone, I made another sigh.
My hair that had became lighter…
Along with my determination, something was placed there… so I realized just now.
***
"Puhi!"
As soon as Kyou reached home, Botan suddenly jumped to her chest.
"I've come home. How are you? Did you stay nicely here?"
"Puhi~ puhi~"
Botan nodded as he drew closer to Kyou.
"Hmm… your stripes are starting to fade away now."
"Puhi?"
"It means you become more like an adult by now."
"Puhi~♪,"
feeling happy because of Kyou's words, Botan started to lick Kyou's face.
"Kyaa… H,ey it tickles."
"Puhi~ puhi~"
*lick* *lick*
And the small baby boar tongue hit Kyou's lips.
"………!"
That moment, Kyou pulled Botan apart from her face.
Kyou's face started to blush.
"Puhi…?"
"Ah… eh… ummm… I have to eat my dinner soon. And I have to change my cloth too."
Smiling, Kyou put Botan on the floor and went into her bedroom.
Feeling something strange, Botan tilted his head a bit, then he chased after Kyou.
***
"Hey, Okazaki"
"Hmm?,"
Sunohara, while closing one of his eyes, tried to start a conversation with me when I was eating my meal.
"Say to me truthfully, how are things going with Fujibayashi Kyou?"
"How? What do you mean by that?"
"How far have you done it with her?"
"It's just so-so. Basically just normal ones."
"So you have kissed her?"
"Yup."
"And how about B?"
"Yup."
"Don…don't tell me that you have done C too?"
"No comment…"
"Please tell me. We are friends, right?"
"Who?"
"You and me of course!"
"Ah… pour me some tea!"
"Okay. Is barley tea fine?"
"Ok, thanks. Back to the topic, can you tell me who is that someone who is my friend, my tea-pouring servant…"
"Please don't make fun of other people good will!"
"Then, if you are my friend, please don't invade my privacy."
"Who was that particular someone who is always in my private room!!!?"
"Your belongings are also mine, am I right?"
"What a nice condition you set there!"
Beside fussing Sunohara, I took some gulp of the tea.
I took a breath… and exhaled it, blending it with a sigh.
Looking at me, Sunohara also made a sigh.
"*sigh*… If only I know it will turn into something like this, I should have just accepted her kiss that time,"
Sunohara must have mentioned the event that took place in the inner garden a quite while ago.
I patted Sunohara's back.
"I'm glad you didn't, because if you did it, maybe you will be hit by her each time she see your face."
"You…! How come you act maturely only when it came to jealousy.,
Sunohara swelled his cheek and grumbled
I placed my chopsticks and looked toward Sunohara.
"… Can I talk something serious with you?"
"Well I have nothing against it anyway."
"To be honest, it is a bit difficult dating with Kyou."
"You two didn't get along well?"
"I think we go along well compared to other couple. It's just that… umm how to say it… Hmmm… it seems that her words and action sometimes call forth misunderstanding. And I'm afraid of it."
"That's Fujibayashi Kyou for you. You never know what she will do if you show an opening."
"Umm…, that's not what I mean… it's about what she can accept or not."
"Haa?,"
Sunohara replied with an idiotic sound.
"You are truly a man that you want so many things from your girlfriend. But now you're hesistating if you ask her too much or not."
"……"
"I knew our boundary well when we were still friends, but the boundary line itself seems to became vague as we go dating… I wonder what she can still accept within her boundary… that's it the problem."
"… Umm…, what do you try to achieve from sharing your problem to a single guy like me?"
"Ah… that's true,"
Tomoya sighed once more.
"I have chosen the wrong person to be my sharing partner."
"Sorry that I can't help you with your problem!!"
***
I placed Botan on a pillow and started to read a book.
It was a normal shoujo-manga.
But I only opened the pages with the kiss scene drawn in the panels.
(… I wondered if they kissed normally here…)
Still opening the page, I touched my lips.
"Sis?,"
Ryou called me. I hastily closed the book and got up.
"Umm… what's up?"
My face was still red when I looked at Ryou.
"What happened, Sis?"
"No..nothing in particular,"
but my shaking face couldn't give much persuasion into my words.
"Lately, Sis seems to be troubled with something."
"Ah… uh… Isn't it just your imagination?,"
I laughed while trying to evade that topic, but…
"Is it about Tomoya-kun?"
Hearing his name, my heart suddenly throbbed.
I think I still need some time to subjugate that feeling I felt earlier.
"Does things not working well with him?"
"N… nothing like that."
I laughed, yet I averted my eyes from Ryou.
For whatever reason, I couldn't ask her to discuss things about Tomoya.
… especially about that thing.
"Umm… Sis? How far have you gone with Tomoya-kun?"
"E…eh!?"
It can't helped that I raised such a voice suddenly, I never thought that subject would ever come from her mouth,
Ryou smiled as usual while setting her eyes at me
"Er… if you ask how far… umm…"
I hesistated in giving her an answer because I couldn't find a proper words to it.
"It has been 2 months, hasn't it"
"Ye…yeah"
"The interval Sis spend dating with Tomoya-kun has surpassed me."
"Yup"
"So Sis doesn't need to be that considerate to me"
"Ryou…"
"Well then…,"
Ryou now sat next to me so that our hips were touching. With interested look in her face, she continued,
"Have you kissed him?"
"E…eh!?"
"If you haven't, then I'm still your senior in our dating life."
After her dating with Tomoya, Ryou had turned into an optimist.
As the big sister who always pulled her arm all this time, I felt that I had stopped holding her arm and left her in a place I don't know.
But… kissing… we have done it a lot.
In that sense, Ryou and I were even.
Then… it might not hurt to as well ask it anyway.
"Umm.. R…Ryou?"
"Yes?"
"While you ki… kissed him…,"
my face was burning red suddenly so I averted my sight to the floor.
And in a fading voice, I continued,
"Di…did your to…tongue…"
As I spoke I feel immense heat in my face.
It was as if I were in a trance condition.
And Ryou saw the blank stare I made.
More or less, Ryou could grasp what I wanted to say, and gave me a little nod, saying "yes"
"To be honest, at first I was surprised,"
laughing in embarrassment, she continued further.
"Eh!..eh!! yo..you….did th..that kind of ki…kiss!?"
"Ye…yes. I did."
Ryou who suddenly moved her face, nodded just like that.
It was not even at all between us.
I was shocked.
"Yo… you know… don't you feel disgusted…? By that slippery feel?"
"At first I felt it strange, but I don't hate it either."
"Ahh… uh…"
I got pierced by that decisive blow my little sister made.
***
"Well, I'll be back now."
It was almost midnight, I placed the magazine I read on the table and stood up.
"Ah… by the way Okazaki…,"
Sunohara still reading his magazine, made a conversation.
"It is about the boundary line… Shouldn't you try not to mind it too much at this stage?"
"…?"
"Dating, in a sense is an action to make that boundary disappear, right? If you are afraid to be hated, then shouldn't it take place before you two date? After all you two are different person, it is just natural that you two has different perception and value. It is also natural that you two collide with one another because of it. It is not a give and take relation, but rather it is to reach a certain compromise. That's what lover is."
"… well at least that's what written in this magazine,"
swinging lightly the magazine in his hand, Sunohara continued.
"…Sunohara"
I have read that magazine before. Even just skimming through it, I had never found such words in that magazine.
"Well take care then."
"Okay. Thanks."
I conveyed my gratitude to Sunohara as I left his room.
As I closed the door, I took a deep breath.
Then I exhaled, not as a sigh, but rather to help me reinforcing my decision.
***
The next day…
After school, the couple was at Sunohara's place as usual.
"I want a Tab Clear"
"And I want McCOL"
"Are they even still sold nowadays?"
"Don't you dare to try to return here before you bought them!"
"A piece of advice, you can also try searching for it in every train stop."
"Both of you… didn't you have a quarrel yesterday?"
""Huh!?""
"Hiiii!! I will buy them right away!"
Cornered by the two, Sunohara ran away from the room crying.
After all, even if they had quarrel, the couple was one of those that would be reconciled by the next day.
Well, at least in that particular thing the two hold the same perception.
"Tomoya, what's Tab Clear?"
"Just a clear Cola. And how about the McCOL you ordered?"
"It is a Cola with barley tea flavor."
"Is it even delicious?"
"I'd rather call it strange…"
As Kyou saying those words, still in her sitting position, she made herself got closer to Tomoya.
She looked at Tomoya's face thoroughly.
"What's up?"
"Umm… sorry about yesterday."
"?"
"That I said 'pervert' and 'just die' to you yesterday."
"Well, I don't mind it."
"Even so… I'm so sorry."
"Ah… I'm deeply sorry too. I won't do things that you hate anymore."
"………"
Kyou silently looked at the floor responding to Tomoya's word.
For a while she closed her eyes, as if she tried to make her resolution over something. Then she made a nod and looked at Tomoya's way.
And she made herself even closer.
Then she overlapped her hand to Tomoya's hand in the floor.
Her face… her lips were getting near.
*click*
"Ah…. I forgot my wallet."
*whoosh* *crack*
"Uwahhhhh!!"
Kyou threw the wallet on the table into Sunohara smiling face when he returned to his room, as hard as she can.
As it was filled with mostly coins, it was heavy enough.
"Damn it! Knock the door first before you enter the room!"
"But this is my room!"
"For now this is our room"
"So… sorry…,"
defeated by Kyou's vigour, Sunohara apologized.
"Okay. But from now on make sure that you knock the door first, Sunohara! Are you fine with it?"
"Could you please stop doing that saying it so eloquently?"
"Just left it at that and go buy our orders. Otherwise there will be soon a bloodbath here."
"Please, everything but that."
Sunohara apologized deeply, then once again he left the room.
"Fuhh… that was close."
As the two confirmed that Sunohara's footstep got farther, Kyou took a breath
"You said a great thing earlier."
"Eh? Great?"
"That right. You said that 'right now this is our room'."
"Ah…I see. But, it's true, right?"
"Well, I can't deny it."
Saying that, Tomoya got closer to Kyou's body.
Then he lightly kissed her.
"Ungg… Tomoya…"
Kyou stares at Tomoya.
Her eyes told Tomoya that there was something she tried to convey so Tomoya stared back at Kyou's eyes.
Then… of a sudden Kyou's face blushed.
"Umm..unngg… ummm… errr…"
"…?"
Tomoya wondered what she tried to say to him.
The tension got stronger.
"To…Tomoya!!"
As if it was to cheer herself, she suddenly spoke in a loud tone.
"I…I'm fine with the tongue thing."
After finished saying that, Kyou raised her chin toward Tomoya's.
Tomoya had never seen her face flushed like this before.
"U…umm…"
To be said such a thing so sudden, Tomoya couldn't hide his bothered state.
Moreover, why was it said without any sensual tone heard in her voice.
Kyou was staying still there, still in flushed face and tightly closed eyes.
Her lips were also closed tight.
"………"
"………"
To be honest… it was a situation where Tomoya didn't sure of what he must do.
"………"
"………"
The silence and stillness continued, and suddenly the atmosphere in the room got heavy.
It got harder for him to make a wrong movement now.
"………"
"………"
"… Oh….My!! Why did you keep staying still there!!"
Kyou started to get irritated.
"Well… whatever you said, but just like I said earlier, I won't do things that you hate."
"But I said that you can do it to me"
"Don't force yourself too hard."
"I… I don't force myself at all…,"
saying so, Kyou averted her eyes.
"But… you have done it with Ryou, right?"
I wonder if she was conscious with her words when she said it. Since her eyes were wide open as soon as she realized the words she blurted.
It was a name that shouldn't be spoken… not at this time.
Kyou bent herself down, and as if she was about to start crying, she apologized.
She was in a situation as if she was a child that got scolded.
Tomoya took a deep breath then he put his hand on Kyou's head.
Thinking that she would be scolded, she drew her body back.
"Umm… Kyou? Err… you don't need to be in such a hurry to do all the things I and Ryou had done."
"… but…"
"You and Ryou are different person. That's why the way you walk will also be different and unique. We don't need to worry about those things, we just need to walk in our own pace."
"…okay…"
"At least, this is not something you need to compete about"
"Okay…"
"I'll say this once again, I won't do anything that you hate."
"Okay"
This time, Kyou finally started to lift her face.
Her eyes were a bit red.
But it seems that she had been relieved, as she made a little smile while looking at Tomoya's direction.
In exchange, Tomoya made a smile too, then he continued,
"So I will leave that thing to you. When you feel you'd like to do it just poke your tongue to my lips."
"………eh?"
Kyou got frozen, still in her smile.
Still in his clear smile, Tomoya continued,
"Afterall as a boyfriend, I can't let you do things that you hate. I think it is the best for us to wait 'till that time to come…"
"Umm.. Tomoya… is that mean…"
"It is fine if we walk in our own pace."
Still in his clear smile, Tomoya replied.
"Are…are you really not angry?"
"Not at all"
"But, it is not a thing that a girl can do first, you know…"
"Then you can say it to me when you have yourself prepared to do it."
"Then I won't in my entire life."
"Then I'll wait for you in my entire life"
"Entire life… Eh! Entire life…?"
No one knew how she interpreted Tomoya's word, but her cheek suddenly turned red.
The speaker was also in the same situation, he suddenly turned red by the words he blurted without much thinking.
"Ummm… that was… err, just a figure of speech,"
to hide his embarrassment, Tomoya scratched his cheek.
"A…anyway, let's try to move forward, even if it is slowly. It's the best not to sacrifice ourself for the sake of the other, but to mutually build our own common value"
"Okay"
Kyou nodded happily.
Tomoya also looked at her with smile.
Naturally, their lips got closer.
And their lips touched each other tenderly.
Kyou circled her arms into Tomoya's back, she hugged him as if to check his warmth.
Tomoya also circled his arm to Kyou's back.
Now was the time that they could both enjoy the fullest.
The room was filled with silence.
No other person there.
It should be… their time to be alone, their silence time,
yet…
"Stupid… stupid… stupid…! Idiot!! Pervert!!!!"
"Wa… wait Kyou! You don't need to be angry for such trivial thing."
"Shut up! And just die already!!"
*Click*
"I'm back… I've search everywhere but I can't fi—— Uagh!!"
The empty can Kyou threw hit Sunohara exactly in the middle of his face.
"I will go home now!"
"Ah… wait!"
"Bye bye!"
Tomoya tried to reach his hand for Kyou, but Kyou evaded it and went out of Sunohara's room.
Suddenly it was all silence.
"Hahh…… Even if she let me touch her breast, why'd she never allowed me to do that? I truly can't understand her reasoning."
"Ummm… Okazaki… Honestly, what did you two do in my room?"
"Just some normal things."
Tomoya sighed then reached his hand to the magazine placed in the table.
~Fin~
★★★
Some term used in the story:
Tsukkomi

Tsukkomi is basically… tsukkomi, a term usually used in manzai (comedy). Please refer to the link for more info as I can't find a better way to explain the term.

ABC of love (恋のABC)

Basically it is the steps of how far the relation of a lover is, with A means kiss, B means petting, and C means sex.
★★★
Well that's it for one of the Another Storys, the other two tells story about Kotomi and Fuuko. Quite fair I think since only Nagisa and Tomoyo who have after stories so far.
Anyway happy Christmas Eve and Merry Christmas and happy Birthday for Furukawa Nagisa. May you all have a great time ^^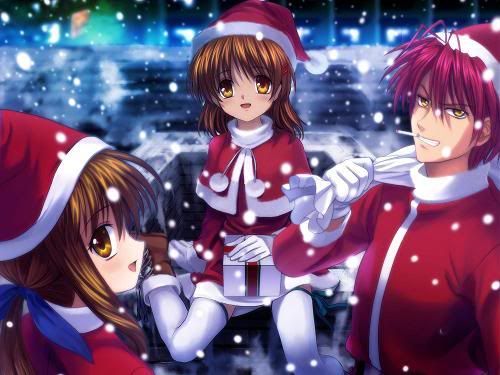 Christmas picture taken from imouto.org